Honey Crab at TCAF 2016
May 10 2016
Hi everyone!
At the last possible moment, it's come to my attention that Honey Crab will have a table at the
Toronto Comic Arts Festival
, which is happening May 14-15! This is exciting news! I'll be there with art prints of various sizes, as well as a 36-page print adaptation of the comic so far! If you're in the Toronto area, come drop by!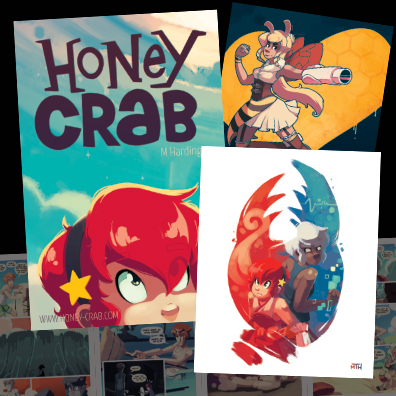 In order to prepare, I've needed to set time aside from working on the comic, which means the first panels of page 15 have been delayed. To hopefully make up for the wait, I've posted a cool new art piece that
Patreon backers
can enjoy as a desktop or phone wallpaper.
I'll be back home and grinding away at more comics in about a week. Thanks for reading!
-MTH
Honey Crab Launches!
Oct 23 2015
It's here!
After a long summer of programming, design, and discovery, Honey Crab is finally ready for the limelight. It's a fantasy story set among the stars, where the mundane collides with the surreal, and where adventure welcomes the brash and bold! This is a story that I've been excited to share for so long that I'm still a little amazed it's finally taking shape!
The best place to start is
right here
. I hope you're good with names!
The comic is designed to be readable on most devices, and there are a few options available for those who want or need a simplified reading experience. Sounds and animations can be switched on or off at will, and you can even switch entirely to "No-Frills Mode" for a simple scrolling version of the comic.
Honey Crab is absolutely free to read, but if you enjoy what you see so far, I hope you'll help support the comic! You can
back Honey Crab on Patreon
, pledging to donate an amount of your choosing for each page that gets posted. You can also check out the comic's
Teepublic store
, which will be updated periodically with shirts and art prints. The first shirt, available today, features Honey's favourite heroine! Every bit of financial support, large or small, makes it easier for me to dedicate time and effort toward creating the best comic I can.
Thanks for reading, and I hope you'll enjoy what's coming next!
-MTH